Find out how much it costs to develop an app in Q4 2021 and why is it worth choosing IT outsourcing in Southeastern Europe
Nowadays, when businesses face significant challenges in a competitive environment of rising cost pressures, rapid action and response are considered imperative. In addition, they face the urge to modernize their technology function to support expanded digitization of both the front and back ends of their businesses.
Choosing the right software vendor dedicated to your business idea & vision is one of those dilemmas that can decide the business' success or lack of it.
If you're looking to outsource software development to Southeastern Europe, you're in the right place. Continue reading this article to learn the key facts that determine the mobile app development cost and why it is worth choosing IT outsourcing in Southeastern Europe.
Developing a Mobile App
When a client approaches us with an idea for an app, it imposes one of the most important questions – the cost of its development. They surely want to do it in the most cost-effective way possible. While having a good idea of what you want – and the coding skills to back it up – a significant financial investment is still necessary to complete the project from start to finish.
Many factors impact the actual total cost of developing a mobile app, such as the number of platforms supported, the complexity of the app, number of features, its visual design and user interface, as well as the entire backend infrastructure that goes into creating the functionality of the mobile app.
Read ahead as we will discuss all these factors (and more!), the people involved, and we will try to compare the costs of developing a mobile app from scratch in multiple countries and regions from around the world.
Factors That Influence Cost
App features and complexity
One of the main drivers of mobile app development cost is its complexity. Simply put, the more features, screens, buttons, etc., the app has, the more expensive it is to create. But that's not the only thing you need to keep in mind. If some of those features are relatively new to the market, difficult to build, or involve a lot of unknowns, the cost will go up significantly.
Implementing some features can be relatively easy, but others can take a lot of time and effort, which is why this factor can have the widest-ranging impact on the final cost of mobile app development. Here are some of the features a mobile app can have:
User login: while it is an essential and ubiquitous feature, it still requires effort and money to be implemented and, depending on the level of security, it can be tricky. If the app has options for logging in via phone number or email or using two-factor authentication, those are all screens and functions that need to be built separately.
Location services: Integrating location-based services into your app will usually be very time-consuming and therefore expensive. This feature implementation is susceptible, and it requires having time with particular expertise, which is not easy to find on the cheap.
In-app purchases: think about all the payment options your users can use to get in-app purchases. PayPal, Google Pay, Apple Pay, traditional credit cards are just a few of the countless methods. If you want to cover a more extensive potential user base and give your users many options, you need to build and integrate all of those functionalities separately.
Different platforms
When developing your app, you need to choose how many different platforms you want it to work with. This decision should not be taken lightly, as there are various factors to consider: the dominant platforms in your targeted market, how specific your app is for each platform, etc.
When it comes to cost, choosing to target only, let's say, iOS users, will not differ significantly from targeting only Android users. However, if you decide to develop both iOS and Android app, things get complicated. These two platforms require different programming languages, different tools, and different teams of developers. As a result, it significantly increases the complexity of your development process, the time needed, and the size of your team, and therefore the total cost is noticeably larger.
Visual design
Spending a lot of time and resources on developing an attractive and intuitive visual experience can do wonders for the success of your app, but it also comes at a cost. Highly detailed and customized visual elements require skilled designers with a lot of experience and creativity.
A decision needs to be made about how important the visual style is – if your app is a part of brand identity and needs to meet specific standards and requirements, it might be a good idea to pay more attention to UX. However, if your main goal is functionality, priorities are better set elsewhere.
App maintenance
This factor can often fly under the radar or be forgotten about when developing a mobile app. However, the development process doesn't stop once the app is released on the market.
Market trends and customer needs are in constant flux, and your app needs to stay on top of these to be successful. Therefore, even if you are not expanding the app's features or its user base, there is still a lot of maintenance to be done constantly. It mainly implies code optimization, improving stability, and bug fixing, but it can eat into a big part of your time and resources.
Furthermore, as the app grows and you start receiving more and more feedback, you will need to address the users' needs, listen to their advice and recommendations (some of them, at least), and provide quality and timely support. Thus, scaling up an app is more often exponential instead of linear.
Development Team
Another underrated factor in determining the total cost of mobile app development is how and where you set up your team of people. There is a fine balance that needs to be struck between having a team big enough to carry out the task in a reasonable amount of time but not so big that you're paying a bunch of money for something that you don't necessarily need. Planning and understanding how much work will be needed are crucial in determining your development team's ideal size.
Do you need a Business Analyst? Do you need a dedicated UX/UI Designer? Or a dedicated Quality Assurance Engineer? How many developers in total do you need?
All these questions need to be answered before starting the development process, especially if you want to stay within a certain budget. This ties into the question of how many platforms you are looking to build the app for. Therefore, you have to decide whether you will need Android and iOS developers and how many.
The following calculation is a quick overview of an average monthly hours total for the basic team setup at QSD. We assume that the month consists of 4 one-week sprints. A developer works about 7 hours per day, so about 140 hours per month. The monthly amount of payable hours of a Scrum Master is usually 15% of monthly hours logged by developers.
2 Developers (1 per platform) = 2 x 35h x 4 weeks = 280h per month
1 Scrum Master = 15% x 280h = 42h per month
1 Quality Assurance Engineer for medium-complexity app = 80h per month
After examining your needs from the very beginning, we will be able to give you indicative information on how many people should be involved in each stage of your software development. Besides the technical background of IT specialists, we place a strong emphasis on high interpersonal skills. Delivering quality results is possible only through effective collaboration.
The geographic location of a development team
It's not only about how your team is set up but also about where. IT service outsourcing allows you to use the broad experience and gain access to the necessary resources and experts' know-how, such as mentioned above. However, the price of mobile development varies significantly depending on the actual geographical location of your team. Hiring an entirely local team can look appealing and has many advantages, but that might not be a good idea if you live in, say, North America.
The advantages of a local team are pretty obvious: the team is closer to you physically, making it possible to discuss the product and have regular face-to-face meetings. It also allows for greater control and oversight of the actual progress.
But the disadvantages are also pretty meaningful. For example, the previously mentioned difference in the prices of development worldwide might not be a factor if you live in, let's say, Eastern Europe or Southern Asia, where the rates are lower. However, you will still be limited in choice. In addition, selecting an entirely local team means you can only choose from a very small pool of potential employees, making it harder to attract top talent.
Hiring from outside of your own country gives you a practically infinite selection of talent to choose from, and you can even focus on regions where the prices are lower, thus significantly lowering your expenditure. The only drawback is having to coordinate people from different time zones and schedules. Still, with a plethora of video conferencing and scheduling software available, that issue is slowly but steadily becoming a thing of the past.
Examples of App Development Costs
While it's true that some of today's most popular apps were started by individuals in their garages, a lot of others would never have succeeded without some serious funding. Here is a quick list of some of the most famous examples: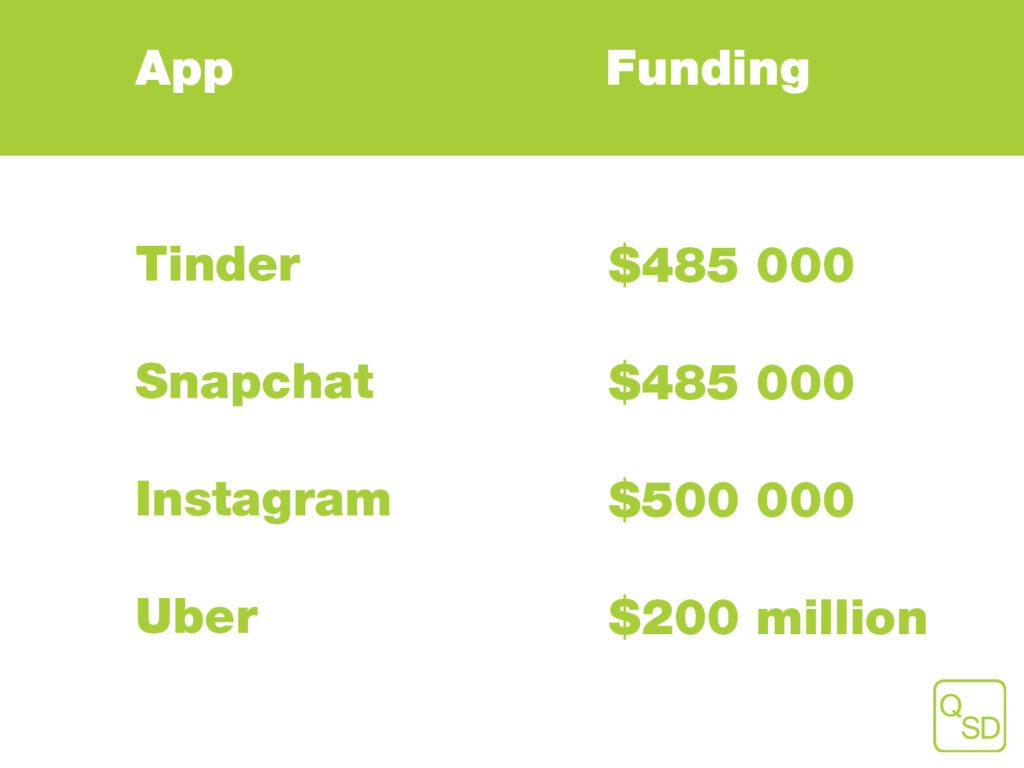 Below, we present one example of app development cost based on our project (social app for movie industry).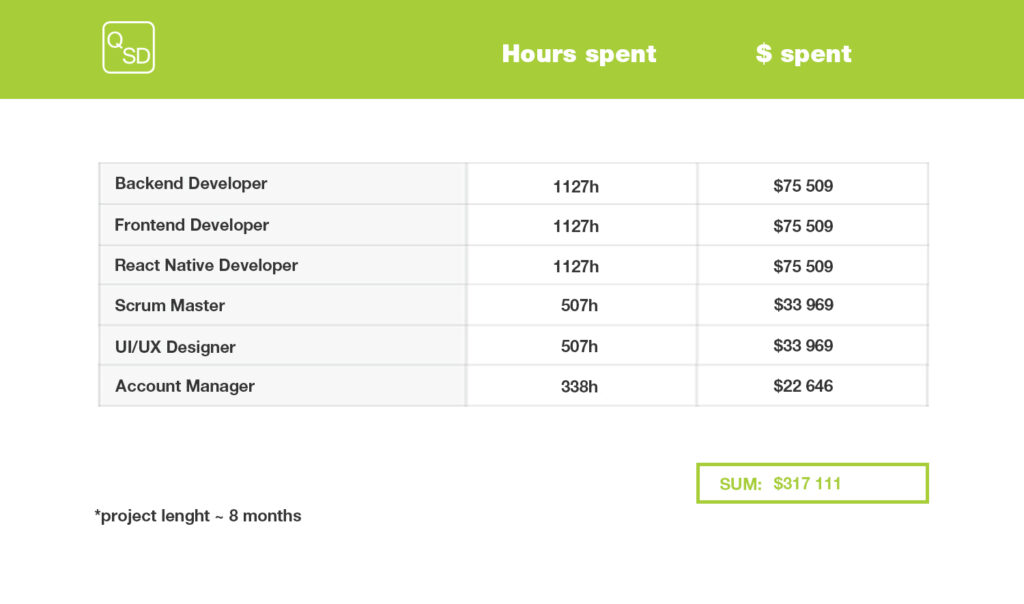 Hourly Rates
Central and Eastern European countries remain highly affordable in software development compared to their other western neighbors. On average, businesses can expect to pay between $35 and $65 per person per hour for an equivalent standard of quality – making it possible for Western companies to almost double the value of their spending.
It is a drastic cut from, e.g., North American software development prices, which usually exceed $100 per person per hour.
Here is a breakdown of some estimates of development rates from around the world:
Source: Accelerance Analysis 2021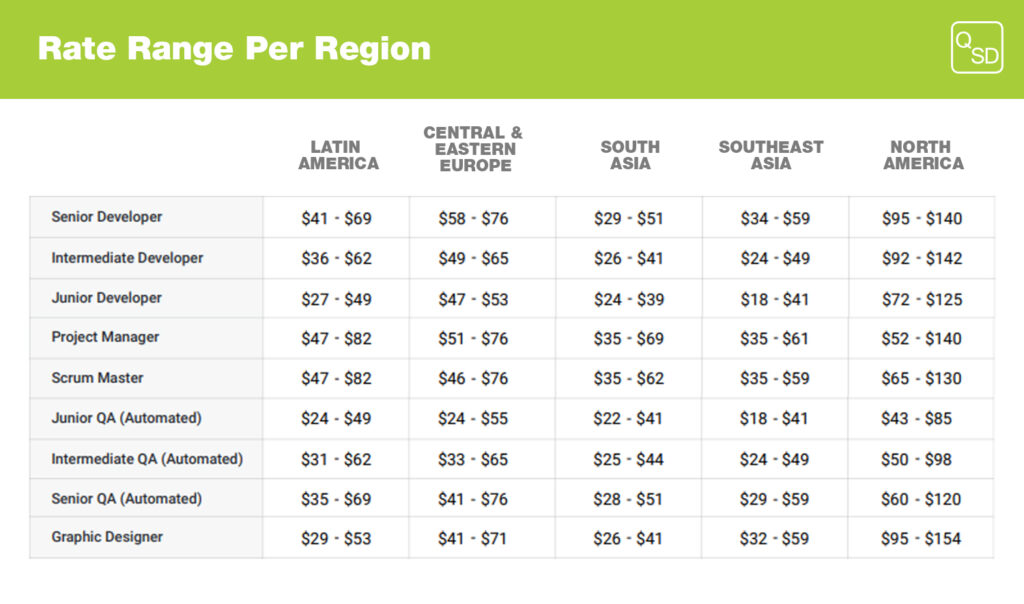 As you can see, depending on the location of your team, the prices can vary significantly. Hence, careful recruiting can save you a lot of money in the long run. Multiplying these rates with the number of hours for each team member (you can use the monthly hours' table seen earlier in this blog post), you can get a good estimate of the cost of hiring a development team for your mobile app.
Do you already have a predetermined budget or time in which you want to achieve a specific effect? QSD will be sure to provide an estimation at the very beginning of how long it takes to deliver the top-notch solutions accordingly. We tend to carefully examine our clients' needs and vision, explaining each aspect of the software development process in detail.
Why Is it Worth Choosing IT Outsourcing in Southeastern Europe?
The maximum payoff of the outsourcing project means finding a development partner that can provide the most significant return on your investment. As previously said, outsourcing software development gives businesses access to a larger pool of talent, with the potential to reduce costs and gain a competitive edge.
Overall, Southeastern Europe is possibly the best value for a return on investment for software projects. Top-rated companies in this region offer a high-quality product at affordable development costs, well-rounded knowledge of western culture and businesses, and abound in wide-ranging expertise.
The region has one of the most sought-after software outsourcing hubs because it combines the best of both worlds:
Highly specialized software professionals
Familiarity with western culture and professional values
High English language proficiency
Access to the latest tech and innovation
Following the Agile methodology of software development
Digitized, efficient, and safe banking
High-quality output
Cost-effectiveness
Companies dedicated to their staff, compensating them adequately, and granting access to continuous upgrade and learning
The trend of tech-focused education – the region abounds in high-quality IT university programs and academies
Maintaining partnerships with universities and tech communities – a proactive approach to attracting the best talent their market has to offer
Moreover, external teams shouldn't only be brought on board for significantly lower hourly rates but for avoiding typical expenses associated with in-house staff. The selection of specialists, employment and onboarding of new team members, team buildings, legal issues, healthcare, paid holidays, retirement plans, etc. – are none of the questions that interest you in the case of IT services outsourcing.
Total flexibility as a great advantage of outsourcing IT services also reflects in easy project scaling. By starting with a Minimum Viable Product (MVP), you get to build a successful product without investing a lot of money into a high-risk project, therefore hiring a smaller team. When you're satisfied with the results, then it's time to scale and invest more. You involve more specialists for the later stages of development, which is much easier to do in this case than with your own IT department (e.g., QA specialists at the testing and evaluation stages).
At QSD, we have our resources and proven processes for this purpose. The rules set at the beginning may evolve as the project is developing and the environment is changing. We understand this and rapidly adapt to the current conditions and your requirements. Hence, if necessary, you can freely change the team's composition without the costs that anyone who runs the in-house IT department must take into account. Thanks to our clear division of tasks and efficient communication, you also get solid support in risk management at every stage of development.
Wrap Up
Developing a mobile app can be a long and arduous process, but one thing you can do to make it less financially burdening is to plan the whole process right from the start carefully. One of the first things you should do is set your priorities and your budget and align everything else with that further down the line. Hopefully, this post has shed some light on the entire mobile app development process, showing the bright side of choosing IT outsourcing.
If you want to develop an exceptional mobile app and increase the chances of the success of your venture, QSD is the perfect place for you. We will convert your raw vision into a revenue-generating mobile app. Our know-how and more than ten years of experience in the global market guarantees the high quality of our work. Your success is always the top priority for our employees.
Feel free to reach out to estimate your app development cost more precisely – fill a short form here.